Strong Heart, three noble souls
The color is an intense ruby that evokes pleasant evenings in front of the fire. The olfactory bouquet is wide and complex: notes of ripe berries blend elegantly with hints of vanilla and sweet spices, in a harmonious combination that invites you to take a sip. In the mouth, the compactness of the flavors and the rich tannicity are juxtaposed with a softness of yesteryear, ensuring a long, satisfying persistence. The result of the harmonious union of three noble grape varieties. The 70% Sangiovese, with its fruity notes and intense softness, is the pulsating heart of our nectar. Alongside it, the 25% Montepulciano d'Abruzzo, sweet and juicy, contributes an explosion of delicate flavors, making this wine round and pleasant on the palate. But that's not all. Completing the team, a touch of Cabernet Sauvignon (5%), powerful and vigorous, gives our wine that touch of pronounced elegance and persistence, just as befits a great wine.
First year of production: 1998
Production area: Montenero d'Orcia
Cultivation system: Spurred cordon
Plantation density: 4,700 vines/ha
Average vineyard altitude: 200 meters above sea level
Soil: Clayey with presence of pebbles
Blend: 70% Sangiovese, 25% Montepulciano d'Abruzzo, 5% Cabernet Sauvignon
Harvest: Manual picking in crates
Harvest time: Sangiovese on September 20th, Montepulciano on October 15th, Cabernet on October 15th
Vinification: Fermentation on the skins for 12 days in stainless steel tanks at controlled temperature
Aging: 10 months in oak barrels
Average annual production: 10,000 bottles
Alcohol content: 14% vol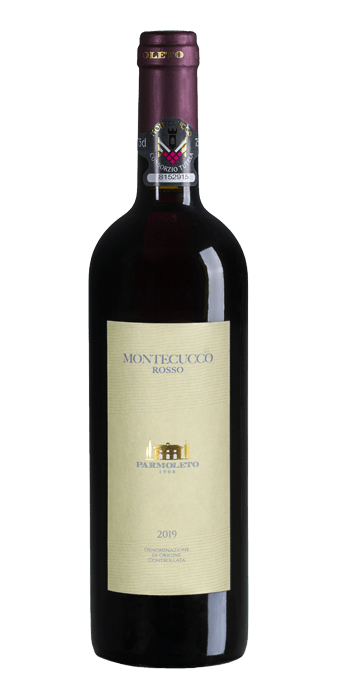 It will be a great pleasure to welcome you to our company and tell you our story, letting you discover our vineyards and cellar, walking among the barrels where the wine silently matures.
Contact us to book a room, to schedule a visit, or to place an order.